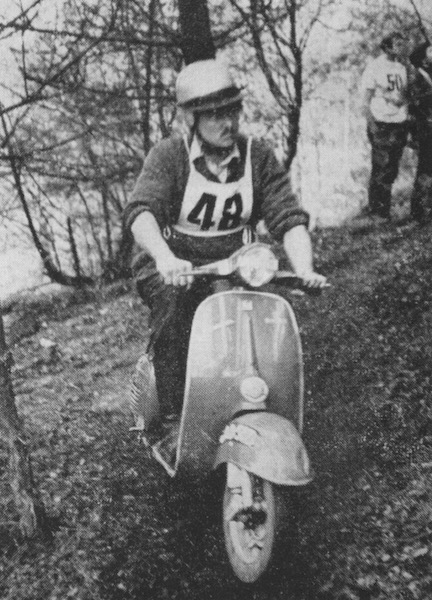 Scooter clubs were in the ascendant when I was promoted to Sales Manager. There was already a strong bond with Vespa Club number 104 as two of our staff were members, but there was nothing for Lambretta until I formed Ace of Herts. Initially a bi-weekly get together in the showroom and runs to a scooter friendly cafe, it evolved into enjoying events all over the country which were mainly for any make of scooter, many long forgotten, Piatti, NSU, Peugeot, Maicoletta, Diana, BSA, Dayton, ISO and DKR come to mind. Add Vespa and Lambretta owners and the numbers were huge, in 1959 ten thousand was the official attendance at a rally close to us in St Albans.
Spurling Motors was a mainly Vauxhall car dealership with outlets throughout London that had broken into two wheels in the late 1940's, bulk buying, restoring and selling ex-war department motorcycles. In the big picture our Watford scooter outlet was small beer, but sales targets were constantly exceeded so everyone was stunned to be told the property was sold and the new owner wanted vacant possession. I was offered alternative employment, but I saw the scooter franchise opportunity. Armed with the guarantee of a suitable premises to lease and supported by my service manager Keith Woodhead I obtained the area main dealership for Lambretta and Vespa.
Trading as Francis and Woodhead, it was just the two of us as we could not afford staff, but we were busy from day one and invariably doing servicing and repairs for hours after the shop had closed. Staff had been taken on, but evening work was still the norm when Keith resigned. Being single, working sixty plus hours a week was no problem to me. Only, with hindsight, did I appreciate that Keith's wife had not condoned long workdays and they had two small children, so Keith had accepted a job with conventional hours. Keith had the workshop so well set up nothing changed except the company name. Scooter clubs started to polarize into action and social groups. I remained active with the Ace of Herts competing somewhere most weekends.
Lambretta had obtained clear market leadership by having stock to meet the demand during the Suez crisis, but the easy days were long gone and dealers were offering silly discounts to close a sale, often without any subsequent servicing. One of my better sales ideas for the Vespa Club 104 members and potential members was that of registration numbers. At that time they were issued by the County, I reserved every '104' number with any three letters for the indefinite future. There was more significance to just being 'Vespa Club 104'. A contempory very popular American TV detective series, Highway Patrol, had storylines loaded with car radio conversations, which were always signed off as 'ten - four' and its star, Broderick Crawford, was the club president.
Lambretta purchasers were assured of the best after sales service! Inspired by the beautifully finished castings of Japanese engines, I started tuning my own scooter engines. Reworking and polishing the porting, alterations to the carburation and exhaust were fitted in when time was available. Although the next step was already on the drawing board. Lambretta and Vespa models to be supplied as a tuned package with complementary accessories and colour schemes.