Tributes to Arthur Francis
Born 28th August 1933 - Passed Away 31st January 2021
Goodbye Dad
Have always been amazed how many people I bump into, and when the subject of scooters comes up, they are amazed that Arthur was my Dad. I live in Thailand now, and Dad came on holiday here for a few weeks a couple of years ago; both my brothers met-up too. We went into a well-known bar (The Marquee Bar) that had an AF scooter on display, complete with a plaque stating what it was; it was displayed hanging in the middle of the room. I asked Dad if it was one of his - he just took one glance and said: "No, a replica!" I think the words that I would use to describe Dad would be modest, honest, decent, kind and wise. It's funny because although we had a completely different way of going about things, our end goals were exactly the same!
Dean Francis
(on behalf of the Francis family)
---
A good neighbour and friend
Arthur moved to Crystal Palace in SE London in 1984, and was a good neighbour and friend to many of us who live and work in Cooper's Yard.
He was one of those constantly active individuals; making things with his hands, locking horns with thorny problems (often thankless tasks that most people leave for others to resolve!) and, right to the end, a man who engaged with life head-on rather than sit in the wings as a spectator.
Cooper's Yard will seem a far smaller place without his unique presence, though testimony to his industrious nature, the things he made and designed will continue to surround us here, even though Arthur is no longer with us.
Alison Marcroft (on behalf of everyone at Cooper's Yard)
---
Classic Scooterist
- the man, the myth, the legend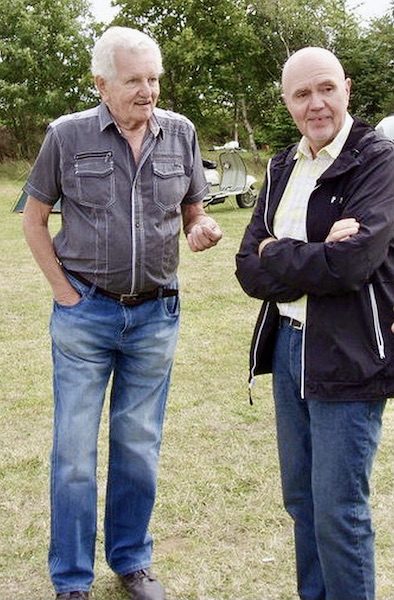 Arguably the greatest scooter sportsmen of all, time, Arthur Francis passed away in a local hospice at 1645hrs UK time, on Sunday, January 31, 2021. For the past few years, He had suffered with a number of health problems including cancer and diabetes. It was Arthur's last request that he should be cremated as soon as possible with no fuss and his wishes were carried-out shortly after his passing.
I first received the sad news in the early hours of a cold February morning - but out of respect to Arthur, it was decided that it would not be made public until Arthur's close friends and family (most of whom live abroad) had been informed.
To try and explain who Arthur was would be pointless; his history as a sportsman, innovative tuner and scooter dealer is already well-documented and legendary; he is still remembered today for his various achievements and the many dealer specials that have been built in his name.
Personally I have known about the Arthur Francis legend for a lot longer than I knew the man himself. But from the moment our paths first crossed, we seemed to click instantly and it wasn't long after that before we started having some very close personal and confidential conversations (I'd like to think that we saw a mutual trust in each other).
In 2008, it was agreed that we could run Arthur's life story in Classic Scooterist. Despite his early fame, by the latter part of his life he'd moved on from the scooter scene and was very modest about his achievements; so being chosen as the only magazine to relay his life story was an incredible compliment from the man himself.
The research and background into the article were a joint effort between regular Classic Scooterist contributor, Dave Dry and myself (Dave got the short straw in compiling the text, because back then Arthur did everything by shorthand and the whole exercise took the best part of a year). For my part I was granted special access to Arthur's personal photo albums and liaised with him over the caption information).
Arthur, if you're looking down upon us now, I hope that you find this a fitting tribute to your memory. Rest in peace my old friend.
Mau Spencer Founding Editor Classic Sctooterist
---
Bob Wilkinson
A great sportsman and much more
The multiplicity of skills demonstrated by Arthur Francis were among the greatest of all influences in my Lambretta career. Not only was he a great sportsman on two wheels, he was such a magnificent example to the young people of Watford when he formed the successful 'Ace of Herts' scooter club. He embraced technical knowledge on every Innocenti machine that came out of Milan. In addition, his business expertise enabled him to create one of the most remarkable sales and service organisations marketing the world's finest scooter.
Arthur and I worked closely together to achieve maximum public exposure for every new Lambretta model to enter the country. Even to the point when I set up my own advertising company, having left the Lambretta Concessionaries; I was promoting Arthur's new company, Two Four Accessories, selling not only scooters from Milan, but eventually from Serveta in Spain and ultimately from the government-sponsored Indian SIL company.
Because of his proven ability to improve on Lambretta performance and appearance, in so many ways Arthur's name will continue to be identified on the machines created from kits and spare parts that will be developed in enthusiasts workshops in years to come.
[Bob Wilkinson was General Secretary of the British Lambretta Owners Association in 1963 who changed its name to Lambretta Club Great Britain. He then became Publicity Manager for the Lambretta Concessionaires before leaving in 1970 to form his own Advertising Agency]
---
AF Rayspeed Ltd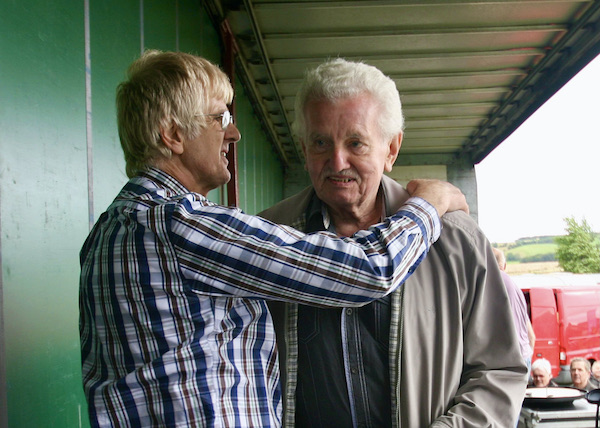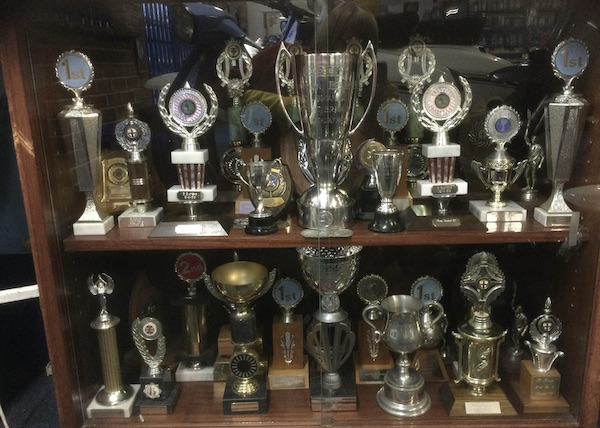 Arthur - my friend and mentor
It was with great sadness that I received the news that my esteemed friend, Arthur Francis, had recently passed away.
Arthur Francis was a pioneer in scootering; he was involved in all forms of scooter sport in the 50s and 60s, gymkhanas, grass track events, hill climbs, regularity trials and road racing. He ran a successful business in Watford as a Lambretta agent and his name soon became synonymous with Lambretta as he pushed boundaries and amongst other things, he developed:
- 250cc Lambretta, using a Bultaco barrel.
- 42mm Clubman exhaust system.
- 12v DC lighting system which included two Pathfinder lights.
- Designed the legendary 'S' type Lambretta.
In the early 60s Arthur was selling 50 Lambrettas a week! I joined him as an apprentice in 1969; it was such a privilege to learn from 'The Master'. He encouraged me in my career and sponsored me in my road racing. So when I took over the running of the business in 1973, I was very well-prepared. In 2014 we celebrated 50 years of the ever-popular 'S' type and Arthur joined us to open the event and present trophies to class winners. It was an emotional experience for him to see so many 'S' types and the enthusiasm of the scootering fraternity. I have some very fond memories and know I would not be where I am today had Arthur not employed me - my first job was to paint the toilet! Always good to start at the bottom!
Arthur Francis, I salute you, for your dedication, determination and achievement in making the Lambretta into the timeless machine it is today.
Rest in peace.
Ray Kemp
---
Ken Herlingshaw
Arthur - an innovator who'll be greatly missed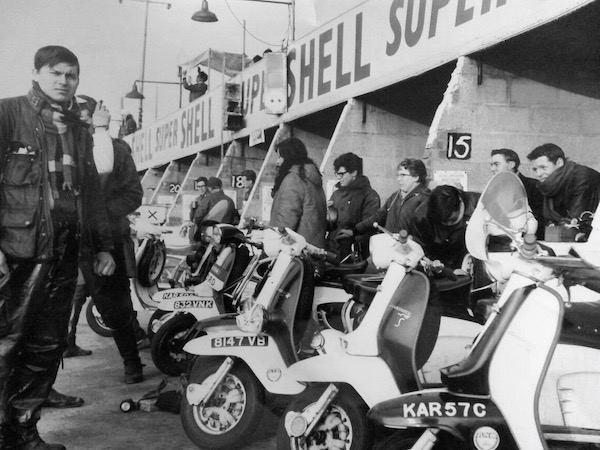 I first met Arthur Francis in about 1963/4, shortly after I bought my first Lambretta, an Li125 Series 3 in 'Duck-Egg Blue'. I was an inveterate 'tweaker', always wanting to change what I owned - and visiting Arthur's shop in Watford was a revelation after the dullness of Speedway in Acton, where I bought the scooter.
At that time, scooters occupied 324 St Albans Road, but Arthur also had No.326 next door, which sold small Fiat 500s and 600s. He lived above No.324 with his wife Diana.
Arthur was an inveterate salesman, innovator and seller of his ideas and he was lucky to have people like Keith Woodhead with him, who could design and implement things like 12-volt lighting; also Ken Peters, who seemed to know the spares manuals off by heart and was an expert at 'mixing and matching' parts from different models.
Whatever ideas Arthur (and often his team members) came up with, somehow they managed to put into production, albeit in reality, quite limited production - although some, like the Bultaco-cylindered 250 existed more in his head than reality. There is no doubt that there are many more S Types in the world today than ever came from Watford (or later Ray Kemp).
For all his worldwide fame in the scooter world, Arthur was not a businessman in the accountancy sense and his underlying company changed name frequently; latterly it was DV Francis Ltd (named after his wife), trading as 'Arthur Francis Scooters' which relocated to premises under the railway arches in New Road, well-off the beaten track.
I eventually moved to the USA, but continued to meet with Arthur about once a quarter when I was in England in what he always called 'Ray White's Caff' (actually Brasserie Blanc in Waterloo). Our lunches usually started shortly after midday when my train arrived and finished at about 5pm when the staff threw us out. Perhaps surprisingly, we almost never talked about scooters, or the past - I don't think either of us wanted to.
I miss him greatly.
Ken Herlingshaw
Technical and Warranty Manager (Lambretta and Suzuki)
---
Team S Equipe
John and Georgie Ronald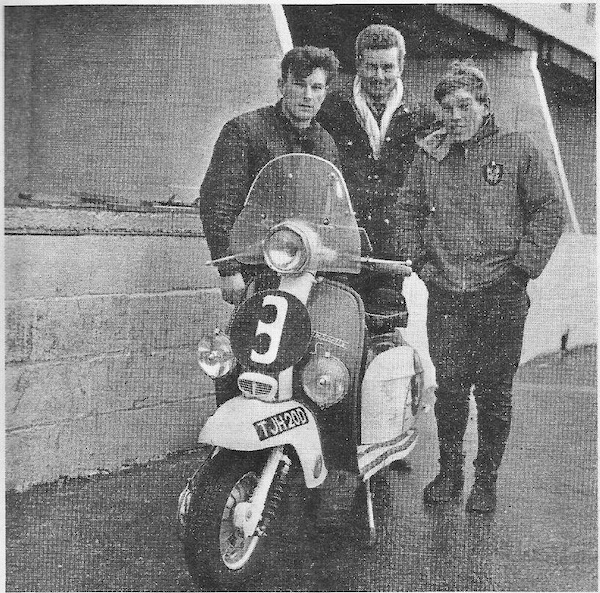 Arthur Francis was a very kind and generous friend always good fun to be with. The period picture shown here depicts Norman and myself with Arthur; it was taken at Snetterton after we had just won the 12-hour event. The bike was an SX200 'S' type which he had loaned us. It was the start of a very long and happy relationship.
Arthur loved speed and I remember he had a Fiat 600cc car which he managed to fit a Ford Cosworth 1500cc engine into. He said it was the fastest car away from the traffic lights in Watford.
He was an adventurous, clever businessman, but liked to be in the background; he was never the one to stand up and make grand announcements and enjoyed being with small groups of people he knew - socially, the local pub was his preferred choice and where many a decision was made.
One of his proudest moments was designing and seeing the success of 'Team S Equipe'. I will never forget when we were practising on Druidale on the IOM; he kept telling us: "Keep your throttle wide open".
Arthur, you were a great friend and will never be forgotten..
Christine and Norman Ronald
It was with great sadness that we heard of the passing of Arthur, my mentor during the Sixties and a dear friend - there were an awful lot of memories to remember.
We met-up in the evening after work, halfway between Nottingham and Watford, at a little pub on the A5 near the Watford Gap Services, to plan our next scootering campaign and schemes that never got off the ground; there were many of these meetings.
Always pushing you to try harder and go faster, Chris reminded me of one of Arthur's encouraging recommendations when practicing on the Druidale: "Keep the throttle on the stop and just crank it over a bit further" (never quite sure how I was supposed to do that when the silencer was already rubbing on the ground).
Then there was the time he put a towbar on the back of my Fiat 500 and encouraged me to tow a large heavyweight double bike trailer plus Lambrettas back to Nottingham; I never got out of third gear all the way up the M1, stopping numerous times to let the engine cool down.
Also the time Arthur resprayed my Vega in a day; I arrived at the Watford shop on Saturday morning with the Vega in the back of the Fiat, in pieces and ready to be sprayed, with primer coats applied; we left it under the heaters and went for a liquid lunch (as normal) once the topcoats were applied, returning home in the evening with a red Vega in the back of the Fiat.
Arthur, the scrapes you got us into - like the time we nearly sank at sea off the Cornish coast; but we would not have missed it for the world.
Thanks for being our friend.
---
The above Tributes have been taken from Classic Scooterist Issue 143 courtesy of the editor: Mau Spencer.