General Secretary
How did you get to be General Secretary of the Lambretta Club
I took over from Rex White in 1970, prior to him the club was supported and run by Lambretta Concessionaires, but Bob Wilkinson trusted us to run it as a Independent organisation. They used to put sponsorship into the club but we never got paid at all. It was just on a volunteer basis. They were big years when we doing it. We had to liase with circuits and councils all over the country. I used to fly out to the Isle of Man to organise events when it was coming up. At the time we were giving Lambretta's away as prizes for the championship. In 1970 Roy's of Hornchurch donated 2 Vegas for the Championship. We introduced the new gloss A5 format for the New Jet Set Magazine which was printed in Nottingham with Ralph Hide as editor.
So you were General Secretary of the LCGB from 1970-1973. What made you stop
After three hard years, I couldn't keep up that pace, so I thought it was time to step down. I bought a new Hillman Hunter car and in two years I did 70,000 miles around the country sorting events out and competing. My profession, prosthetics was starting to take up a lot of my time seeing patients all over the place. Bromley Innocents took over from us and since then Kevin Walsh has been doing it. He must have had a fair amount of stamina and time.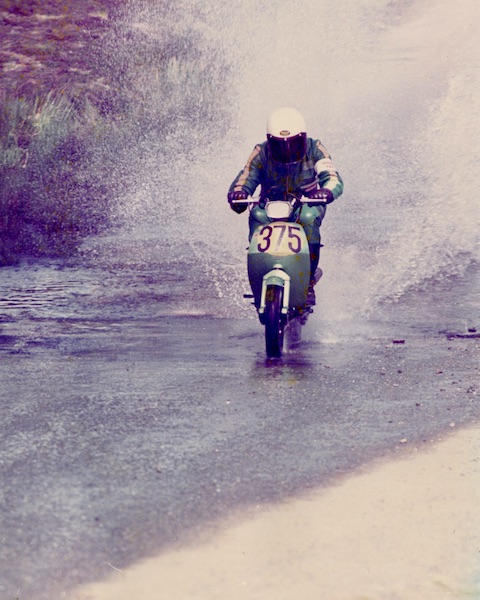 Did you stay involved with scooters after that
I went on to be Chairman of the Federation of British Scooter Clubs (FBSC were the old racing organisation) for about three years. I first joined as a representative of Lambretta. I stopped being involved in the late 70's when there started to be lots of trouble on the rallies with fights. We had a big event in Southend when I was the Lambretta club Steward and it got so bad with fighting with the police and turning a police car that I wanted to close the event. I had a word with police but they wouldn't let us close it because they wanted to keep all the scooterists together, not running riot in the town.
When did you stop racing and why
That was in the late 70's too. Well as you get older your reactions aren't what they once were. I didn't want to be thought of as a has-been. I think it is better to get out when you are at the top. That's my philosophy. I'm past the sort of age when I should be racing bikes.
Do you still have any of your old racing scooters
Not now. The Vega 125 - which was Arthur Francis bike really was loaned to Mike Karslake's museum. When the museum closed the Vega went back to Arthur Francis in Watford and somebody has stolen it, so where it is now we haven't a clue. Its shame because it was quite unique.
What involvement do you have with scooters nowadays
A while back I bought a Gilera 180 runner and loved that. The handling was a bit skittish. I've had a couple of them, and now I've just bought a brand new X9 500 which is a brilliant machine. I am still in touch with LCGB, and they've got an event on in the Isle of Man in 2003 that will mark 50 years of Lambretta in the UK. They are going to invite all the old chairmen, so all being well, I'll be going to the IoM again next year. I'll probably go on my X9.