Bob Wilkinson
Didn't Bob Wilkinson dream up some of the clever marketing ploys of Lambretta at the time
Yes including the J-range with floats on. I remember seeing it used at Mallory Park and on the Thames. One of the engineers from Lambretta tried to follow the Red Funnel ferry out from Southampton and the police arrested him for getting in the way of shipping. Bob was stood on the Warf egging him on saying go on get arrested it will be in all the papers. At one of the LCGB events at Matlock Bob erected a big out door cinema screen and showed a horror film. As far as we know he was the first person in the UK to do it. He also booked Gerry and the Pacemakers for a Lambretta rally down at Beaulieu for the launch of the Pacemaker Lambretta. At the time money wasn't a problem for Lambretta Concessionaires. In 1968 they spent £200,000 building Lambretta House in Croydon, but it would cost you Two million pounds to erect a 40,000 square foot building now.
Had scooter sport in the UK become very competitive by this time
Yes, in the early days it was very much for fun, but later the rivalry between Lambretta and Vespa got to be a real fight. It got quite serious, so the importers held a publicity stunt called the 'burying the hatchet' event where one of the importers presented the other with an axe buried in a piece of wood. This was intended to cool all the agro that was going on between the two groups of people, when some where trying to knock each other off in various events.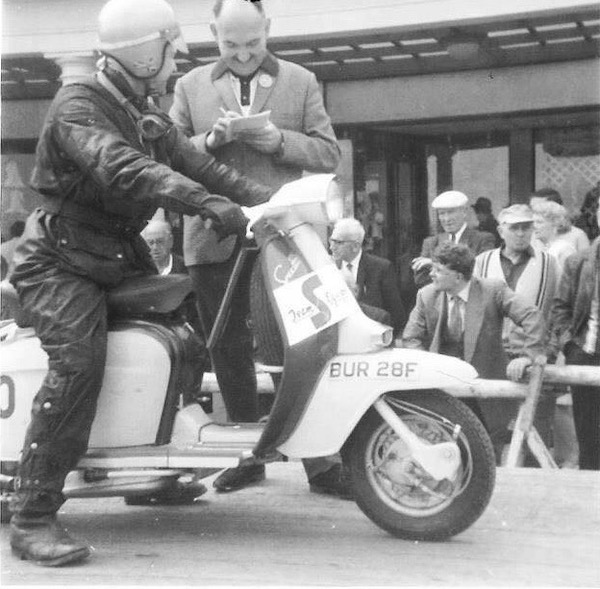 How did you get to ride for Arthur Francis
Well to start with he was the competition - this is when he had the shop in Watford and before Ray Kemp worked for him - and we used to race against him. One year we didn't have a bike so we decided to ring Arthur up to see if he'd lend us one. He jumped at the chance, and gave us this SX200 that was an orangey colour. He had tuned it so it was very quick. My brother and I took it to the Snetterton endurance race and we won. It was the first time one of his bikes had won Snetterton and after that he sponsored us for quite a few bikes, including an SX150 Special which we took to the Isle of Man.
I had a nasty experience with one of his scooters one time when I was bringing one back from a event on a trailer to Birmingham. The scooter caught fire on the trailer when the battery cable had shorted out and it burst into flames. I was tearing down the road and just happened to see smoke coming out from under the side panels in my rear view mirror. I just happened to be going past a fire station, so I pulled onto the forecourt and knocked on the door. They brought a hose and quickly put it out, but it was only a couple of weeks before the Isle of Man, so I had to make a quick trip to Watford to Arthurs to have the bike rebuilt. It was done in time for me to go to the Isle of Man, we used to race then as Team S Equipe, and the scooters became known as the Arthur Francis Extra S Type with the S-badge being taken from the Mini Cooper S. Arthur and Ray then started to produce them for sale, and have done so ever since I believe.
What were the scooter endurance races like at Snetterton
With that event you basically had to go over the line exactly on time. they gave you the average speed that you had to keep to for twenty five laps, so you had to be spot on every lap. We use to have a box on the back of the leg shields with like a toilet roll on it which you could turn and it would tell you what time you had to go over the line each lap. We had stop watches at the front which were illuminated and had a magnifying glasses so we could look down and have a large vision of the time each time we crossed the line. Every twenty five laps we had to clock in change drivers and refuel. As we went thro into the early morning the average times gradually got faster until the last twenty five it was flat out trying to catch up your time you lost coming in and changing drivers, you still had to finish on time. The official timer keepers timed you from the control box at the start and finish line, you never knew what laps they would time you on. This was done at various times of the night so you had to be on the mark all the time. The bike we had was Arthurs first bike with 12volt lighting and it had two Lucas spot lights, which were brilliant. You could see all the way down the back straight at night. Of course this was the time before the full-face helmets. There was a company that had invented a circular visor with vanes on it that spun as you rode along. They sponsored us for a couple of meetings and at one event it absolutely hammered it down with rain so this rotating screen was brilliant It spun the water off and you had clear vision while others without it were struggling to see anything.
Did you stop using them when they stopped sponsoring you
The problem with them was the bearings weren't sealed in those days, so after a bit of use the bearings would rust and would start grinding away. They looked strange but my did they work.