How did you end up doing the Moto Giro d'italia
Lambretta Concessionaires sponsored us to do that in 67 and Milan Taranto in 65. We got invited to do it because this was the time I was doing very well in the IoM and on the track at various British circuit meetings. My brother and I won the big endurance events at Snetterton quite a few times and because we'd been doing so well the Lambretta importer picked up on it.
How did you get on against the Italian scooter teams when you completed in ItaIy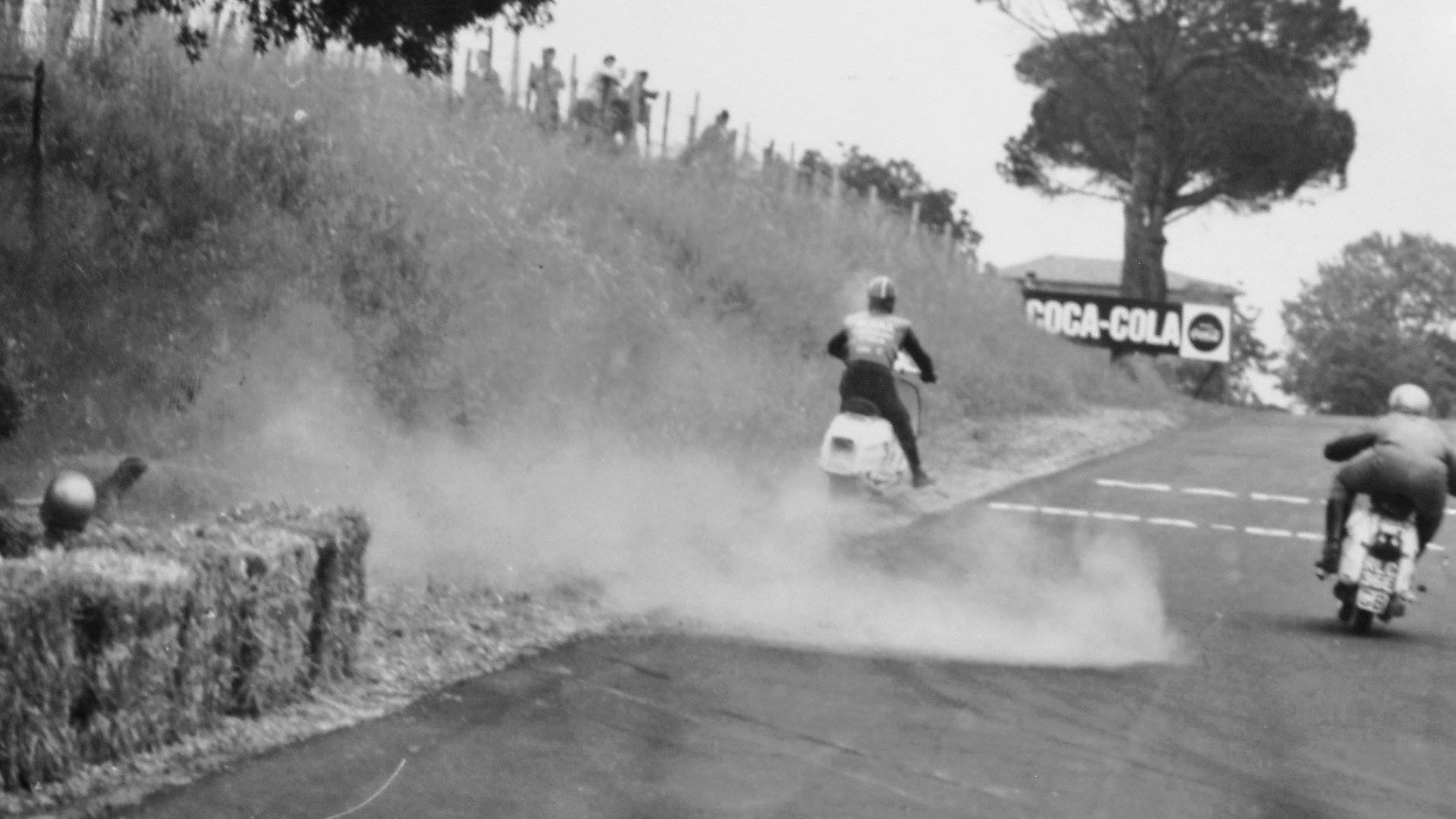 Milan-Taranto was a long distance road trial that went the full length of Italy, but this was organised purely by Lambretta, and the winner got a gold plated Lambretta TV175 from the factory. We flew from Southend airport to Lausanne in Switzerland and from there we rode to Milan.
There were nine of us split into 3 teams. None of us finished in the top lot, as for many it was our first time on foreign roads. The event was sponsored by Agip fuels, who gave us coupons to fill up whenever we needed to. The teams were paid so much a day depending on how well you did. At the end we put all the money together and divided it up between all of us. At the end of each day there would be a sprint through a town, and the whole town would be cordoned off so we come hurtling through flat out. At night scooters went into a closed parking area and you weren't allowed to touch them. Guys with machine guns would stand guard all night.
In the Moto Giro, I very nearly won that one. The event is like a massive tour of France for bikes and Scooters. You had to get from point A to B within the allotted time. Each day we had to do something like 300 miles each day which is hell of an event over seven days. Also each day had special stage like hill climbs and race circuits.
I was riding a SX 200 which had been specially prepared at Lambretta works at Croydon. What they had done was strip it and completely rebuilt it to make sure it was perfectly put together. It is surprising how well they go when they are built properly. The only modification was that chronometers had been fitted in place of the speedometers which are much more accurate than speedos. ( This was the first Lambretta to be fitted with a chronometer and what other people have since copied)
The SX was originally built for me to ride on the IoM. But the event was cancelled that year due to the ferry strike. So it was entered into the Moto Giro instead. The bikes were shipped there and we went by train.
I was doing very well overall until the final day when we came to the Imola race circuit. I was one of the leading group of scooters and got it well cranked over into a bend when the guy who was just ahead of me in the lead for some reason slowed up in the middle of the bend. Of course I was full over on the footboards and I dare not put my brakes on because that would have been it. I made contact with him side on, which had me off. I managed to get the bike going and finish, but with points accumulated over the week I finished 5th overall, but if it hadn't been for that incident I would have been first or second.
What was the bloke who had you off riding
Same as me he was on an SX200 (Ed's note:- john later recalled that the riders was called Sicbaldi of Cagliari Lambretta club and he later rode at the IoM scooter week as well). I know at the time Bob Wilkinson who worked for Concessionaires was all for putting a complaint in, but I couldn't see the point. What's done is done.