Isle of Man
Did the growing Mod Movement of the early 60's have any influence on you
I never really got involved in Mod although there were Mods involved in the club scene. When you were more involved as we were in the competition side it didn't appeal. I was always the guy in the Barbour waterproofs. We used to do the serious stuff, and they'd do what they did, but a lot of the mod guys would come and watch the sporting events.
After the local road trials what did you progress to next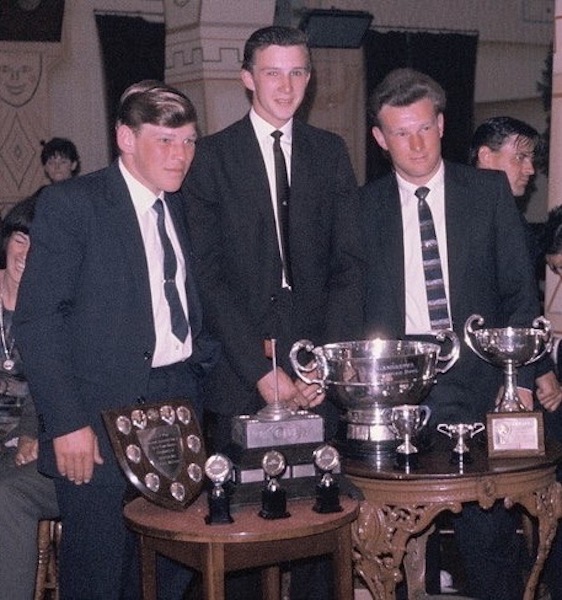 I went on to major trials such as the Cambrian 3-day Scoot. The Starlight trial and the Esso Scoot to Scotland, which we did quite a few times. The Isle of Man Scooter Week had started by then, and originally had a 24-hour TT event, but it was only a 12- hour trial by the time I went in 1963.
I had a TV 175 by then, and I entered it in the events. The 12-hour event was always an adventure in itself on the TT course. They ran it all night from 10pm until 10am the next morning. You had to keep your pit crew organised so you could fuel up and be off again at a certain time each lap of the course. The problem was always at night up on Snaefell when nine times out of ten it was thick fog.
In 1963 they had the Raleigh Roma scooter out, and Raleigh had employed some of the TT racers to ride their bikes for them. It just so happened that one of the guys I was following was one of these TT riders. When I was going up through this thick mountain fog on the mountain I latched onto the back of this bloke and followed him. We were doing 60 mph through fog so thick I could barely see the end of my nose. I couldn't make out how this guy was getting round, but I was just following his red tail light. What I found out afterwards was that these guys who knew the course would do it by counting. they'd go " 1,2,3,4,5, flick it left, 1,2. . ." and hope they'd got the sequence right. When you are riding up on that mountain there's no room for mistakes otherwise you'd be off the road and falling down the other side of the mountain.
In that first year I got round and got my first gold medal. To do that you had to have stopped at each of six or so checkpoints on each lap to register, and have been at each one by a certain time. If you are late then you start being docked points. After you lose so many you go down to a silver medal and so on. To do well overall on the IoM rally you have to get a gold medal on the 12 hour event, you can then start working on the other events for the rest of the week.
What scooters were the other top people using at the time
Mainly using similar bikes because the 200 was not out yet, so the TV175 was the best Lambretta available. The Vespa GS was the other bike being used, I had one loaned to me once it was a very nice bike, and very quick. Front end was a little light. The other ones I remember going well were the Moto Rumis and Jawa scooters. The Velocette and Triumph 250's were around but they were all too big really. They were the equivalent to the X9 today.
Were you staunchly Lambretta, or did you have a soft spot for the Vespa as well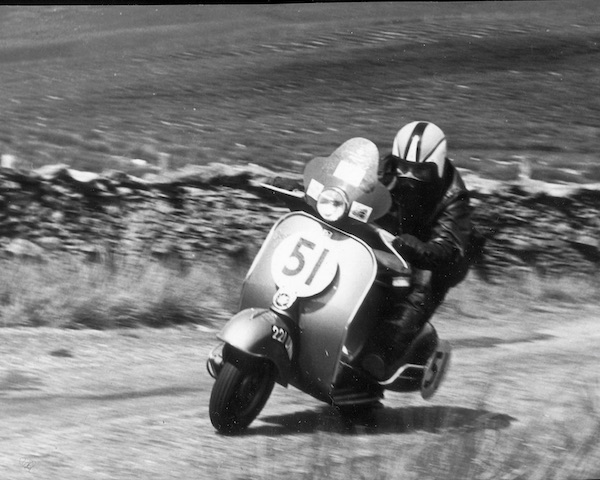 No, they were the opposition. This was the big competition between Lambretta and Vespa. Once you had picked sides, you usually stayed with it.
Didn't your brother Norman also become a successful sporting Scooterist
Yes, he started after me by quite a few years. He didn't go to the IoM until the following years after me, and when he did he was riding a Vespa.
I take it you weren't impressed with your brother taking a Vespa to the IoM
It didn't bother me, but I don't know why he did it. The Vespa was only his second bike. After that he bought a Lambretta anyway, and we use to ride together in many events.
Were you involved in tuning and customising to begin with
In terms of customising , I had some bars on my bike and that was it. Tuning kits didn't really exist in those days. You couldn't go out and buy anything for performance to bolt on, so anything you wanted to do had to be done yourself. In some ways we were pioneering with that because people were seeing what we were doing with our scooters for events and converting their road bikes in the same way.