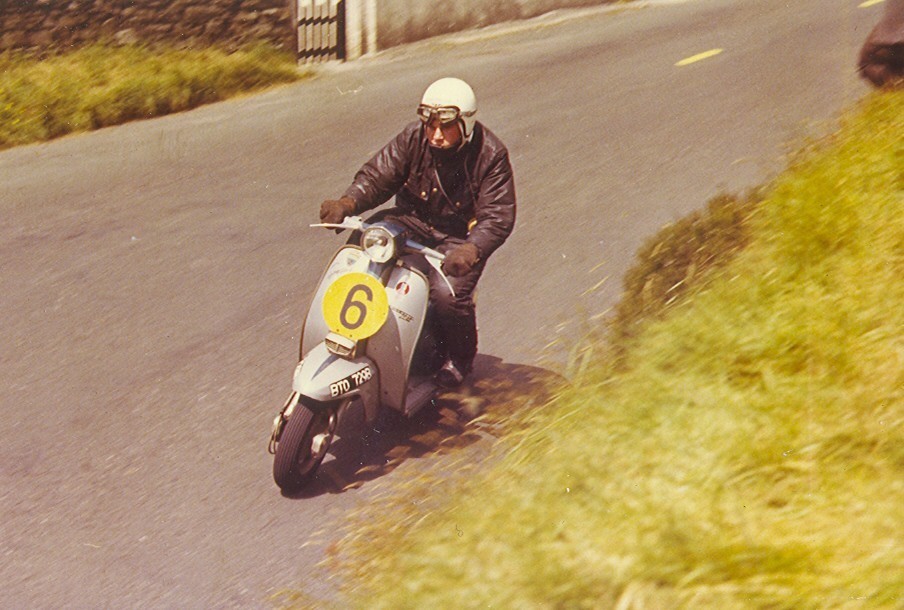 How did that all come about? Thinking back, I ask myself the very same  question. I think Malcolm Clarkson was secretary of the LCGB; he later went on to run Supertune down in Croydon. I vaguely recall Malcolm being at the Isle of Man during that first year and he asked me why I was riding a Vespa.
It was after I'd made the swap to the Lambretta that we got the invitation to go on the Milan-Taranto the following year (1965) presumably because we'd won the team award at the Isle of Man. Bob Wilkinson  of the Lambretta Concessionaires had turned up on the scene  by this time and  nine of us flew from Southend to Geneva, then  drove through the Alps to Milan with Bob and his wife Usshi (Ursula) who spoke five different languages and acted as our translator.
In Milan we went on a trip to the Innocenti factory and were asked if anything was wrong with any of our bikes. Someone commented that their front brake wasn't working too well off came, wheel complete with brake unit to be replaced with a new one, no expense was spared with any of the repairs needed to our bikes.
This particular event was run by Innocenti and the whole plan was to get as many bikes as they could from Milan to Taranto; the event took place over five days (again a timed event, meaning you had to be at certain points at certain times).
We were given a route card and everything else needed; all the petrol was provided by AGIP, so you had to go to one of its fuel stations if you needed fuel. Articulated lorries full of spare parts were on hand at the end of every day, so if anything went wrong with a bike, it was put in the lorry with a team of travelling mechanics who would rebuild it overnight if necessary.
The idea of this was that if 500 riders started  the event, then Innocenti wanted 500 riders to finish. We completed the event at Taranto on May 5, 1965 my 21st birthday. Bob had organised for us all to travel with our bikes overnight by train back to Milan (unfortunately having to miss the award ceremony), while Bob and Usshi drove the Commer van back to Milan and then on to Geneva, meeting us for the flight back to Southend.