Swinging Sixties
During these exciting times, from the summer of '58 through to the early 60s, I was deeply involved in a wide variety of experiences from early television, national press advertising and public relations exercises of all descriptions, including the launch of the wonderful TV175 to the press at Crystal Palace. The photo opportunities offered by these exciting new models were immense and gave me the creative freedom to express many views of the Swinging Sixties.
Mini-skirts were the fashion in Carnaby Street with Twiggy-types giving me ample glamorous pictures. The jukeboxes in every coffee bar were loaded with 45rpm records, with Elvis and Tommy Steele fighting for top billing, well in advance of the Beatles and Gerry and the Pacemakers.
The labour market was buoyant and this, together with a petrol crisis, helped to boost Lambretta sales to the point that expansion was inevitable and Concessionaires moved into the old Trojan works in Purley Way Croydon.
Some time after this move I received a 'phone call out of the blue from an old friend, Peter Baker, with whom I had worked to produce Lambretta accessory brochures. He and PR chief, Philip Keeler, wanted to tell me about a job vacancy for General Secretary of BLOA, as Derek Guy was leaving to move to Castrol.
Changing society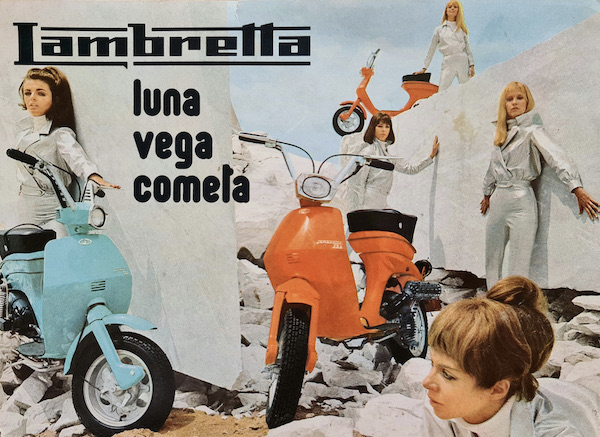 The baby boomers of the 1960s were the first post-war generation to reach their teens with no National Service to discipline them. With more money in their pockets than some of their parents, young people had time to reflect on society and their place within it. Some wanted to create their own identities and change the roles society expected them to play.
'Sex' and 'divorce' were considered dirty words and almost unspoken when Princess Margaret, the Queen's sister, announced in 1960 she was to marry Antony Armstrong Jones, an untitled commoner who was later reputed to be bi-sexual. Changing times indeed!
British society was changing in other ways too, with the sustained influx of immigrants from our former colonies. Sadly, not everyone shared my enthusiasm for reflecting this increasing diversity in our marketing materials. Despite the obvious commercial opportunity to promote Lambretta products actively to this growing target audience, I was prohibited from using ethnic minority models in photo shoots. I've been reminded of this as the debate over diversity and media representation has escalated in the last year.