The Bob Wilkinson Story and his Influence on Lambretta in the UK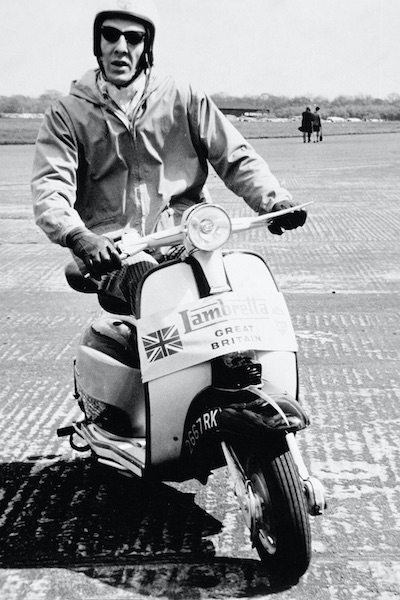 1958 marked the start of a 20-year experience which changed my life forever and ultimately altered the lifestyle of thousands of people who I was able to eventually influence.
Headhunted
That year, following complex job experience in publishing and with two relatively insignificant London advertising agencies, I was invited to join Smees Advertising, an agency responsible for a number of large companies, including the cosmetics giant Max Factor.  Among their lesser known clients was one I had never heard of – Lambretta Concessionaires. Within a few months of working in a junior production role I was promoted to be assistant account executive to Desmond Smee, who was responsible for Lambretta.
Today I cannot believe that 63 years ago the name Lambretta was almost unknown. My transition from four wheels to two was accelerated by a motivation that told me that, if I was to successfully promote the Lambretta image, the only way was to own and drive one.  While working on the new Lambretta Holiday campaign to promote the general sales of the latest Lambretta Li150 model, Desmond Smee arranged with Lambretta on the Kingston Bypass for me to buy an Ld150 at a special discount price, as they were trying to clear old stock to make room for the hundreds of new models on route from Milan to London.
The innocent abroad
Commuting through London traffic, I became aware of many other scooterists and decided to investigate the British Lambretta Owners Association (BLOA), a club that I had learnt was quite successful in bringing together local groups of enthusiasts with a common interest.
The very first BLOA event that came to my attention was at Kidlington, an old airfield near Oxford.  Clad in the appropriate clothing of the time, I made my way through the West London suburbs and was surprised by the number of bikes heading in the same direction. I managed to introduce myself to a number of personalities who were running the "rally", as it was called. These included Derek Guy, then General Secretary of BLOA, and a wonderful man named Mike Karslake, who I had previously met at Smees due to his life-long Lambretta connections.
Among the many clubs that were evident at the rally, the Bromley Innocents stood out as being well-represented and full of enthusiasts who were proud of their machines. I subsequently became an honorary member of the Bromley Lambretta Club and soon began to see how clubs were an essential element of future sales potential.
The very first international Lambretta event was a giant rally in Brussels, Belgium, to celebrate the 1958 World Fair and the symbolic opening of the "Atomium". As part of my induction into Lambretta life at Smees, not only did they send me that year to the Isle of Man scooter rally, but also booked me a flight from Lydd airport in Kent to Calais by Silver City. This enabled me and my trusty Ld150 to journey to Brussels for the Lambretta experience that firmly set my sights on the future.