Neville Stuart Frost was born on 16th May 1943, the first of three sons in a strong religious family. His youngest brother, Keith, remembers him as a competitive teenager particular when he was playing basketball for the school.
His father forbid him to ride a scooter or motorbike, but already showing his determined and perhaps rebellious nature, Nev left school early, got married and bought a scooter. He trained as a bookkeeper, worked in London and lived in Plumstead, south London.
In June 1964, Nev joined Bromley Innocent Lambretta Club with his first wife, Brenda. They participated in the social events, including starring in a pantomime, Cinderella and attending a fancy dress ball in Farnham, all dressed as St Trinians Girls.
Nev quickly began to take part in all the sporting events which the club organised, club evenings and also went to the national events. He was part of the Bromley Innocents formation team, which was filmed at Penshurst Palace for Innocenti, during some pretty intimate, split-second formation riding with an acrobatics teaming centre stage.
Throughout 1965, Nev attended almost all the national and local events, riding an old D model, with which he won the oldest machine award at the Blackpool rally. Is single-minded dedication to competing in and winning every scooter event finally cost Nev his marriage. He and Brenda split up in early 1965. In the national Lambretta championship that year he came fourth.
By 1966, times and attitudes were changing LCGB (Lambretta club of Great Britain, successor of BLOA) started the magazine jetSet and events will be coming more competitive.
At the LCGB AGM in November, Nev was awarded the Norman Gaze trophy for the most outstanding scooters rider of the year, he also won the innocents club championship.
Malcolm Clarkson, owner of Supertune, Croydon, offered Neville a job and tried to bribe him to leave Bromley Lambretta club for the JetSet, London Lambretta club, Nev happily left his job as a bookkeeper and joined Supertune, but refused to ride for Jetset, remaining a staunch member of the Bromley Innocents.
Nev was invited by LCGB to be part of the 1967 Motogiro d' Italia team, the event was mainly held on rough tracks all over Italy. By the final day, up until 10 miles from the final checkpoint, he was lying second, but his rear hub shattered and he dropped back to 41st.
In the final event, a high-speed trial (race) around Imola. Nev finished second to Italy's Masserini, who had earlier in the race made contact with John Ronald while being over taken on a bend fetching him off.
In the Isle of Man scooter week that year, Nev was the only member of the Innocents Lambretta club to get into the senior Druidale event, achieving joint second overall for the week, beaten by John Ronald, but putting up the fastest time for a 200cc scooter in the Duridale event.
The final event of the 1966/67 championship was held at Morecambe where Nev was awarded the LCGB club championship trophy along with a new Lambretta SX 200 and 100 gallons of fuel.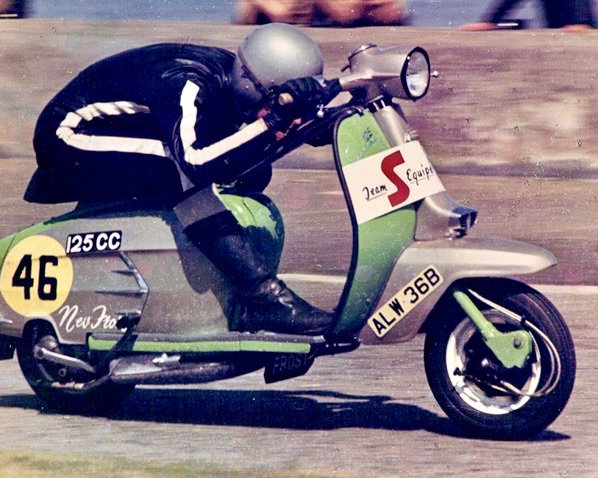 In April 68 Nev moved from Supertune in Croydon, to work for Arthur Francis in Watford.
The tour of Britain, the longest scooter road trial event, organise to celebrate Lambretta's 20th year, which covered about 1000 miles, much of it over rough terrain. Nev was the overall winner and part of the winning team with the Ronald brother's.
In June of that year, Nev went to the Isle of Man on an SX125cc as a member of Team S Equipe, the team was extremely successful, winning the team award together with finishing first, second and third overall for the week.
That was the last event in which Nev rode as a member of Team S Equipe, he went on to be one of the most successful scooterist's of all times and had a very successful partnership with Bev Flanagan in scooter combination racing, before moving onto motorcycles and winning Lord of Lydden Hill in 1976.
The above is part of an article called, (Scooter Hero) The full article can be read in Classic Scooterist June/July 2011, Issue 79