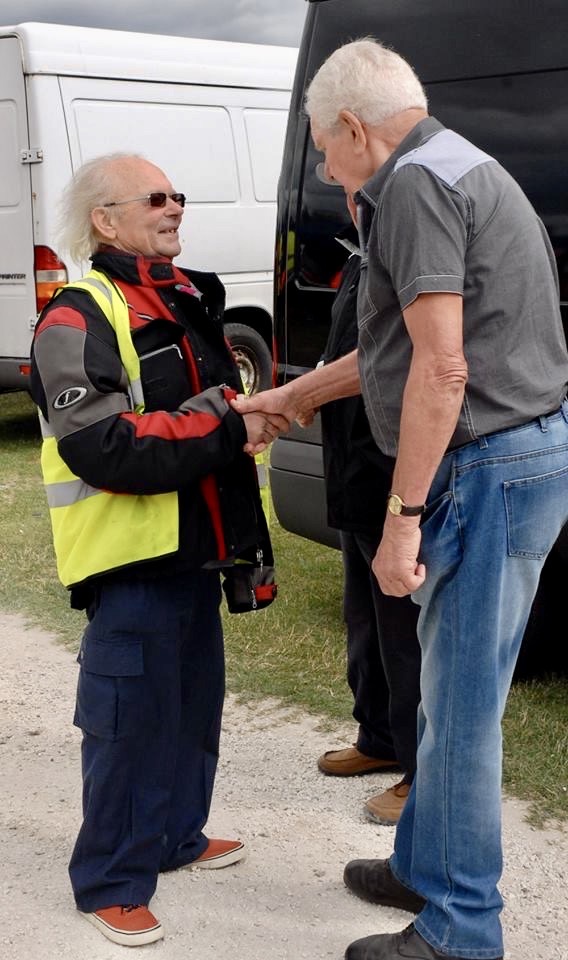 Over a sunny but windy weekend in August 2014, Ray and Mary Kemp together with son Ben and family, ably assisted by Karen of AFrayspeed- scooter specialists near Scarborough,organised and hosted a celebration of 50 years since the Arthur Francis Lambretta 'S' type was created.
Ray was previously employed by Arthur so has a wealth of knowledge and experience of 'S' types and can manufacture replicas from either customer owned donor machines or modifying new Indian manufactured machines.
A large stock of original italian parts and Indian replacements are held and can be supplied to order. An attendance of some hundreds of enthusiasts were entertained to a full weekend of festivities. A large contingent of Lambretta Club members held a rally in the nearby village where they were provided with camping pitches, breakfasts and more.
Scooter legends of the past included Arthur Francis, John Ronald, Norman Ronald, Ron Moss , Haydn Redfern, Marshall Swonnell (Chuckles) and many more attended. Refreshments were provided on site and in the adjacent pub/cafe.
Situated in a large trailer was a live group who played a variety of music to the assembled crowds. The prize giving ceremony also took place on the trailer and Ray dispensed a surprising number of awards including 'goody bags' that were truly amazing in their contents. The raffle prize of a restored 'S' type created a stir of excitement.
There was a mouth watering static display of 'S' types which created a lot of interest and amazement at the high standard of original and restored machines. The weekend concluded with a grand fireworks display using computer technology to present a dazzling display to the delight of the small crowd remaining – those who left earlier do not realise what they missed. So ended an emotive weekend where many scooterists were reunited with their previous 'life' and modern enthusiasts could appreciate what it was like in the 60's and 70's.