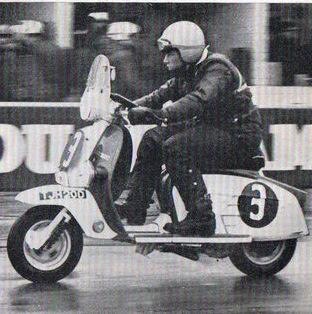 Team S Equipe
How it started
The Ronald brother's already knew Arthur Francis, and with Snetterton high speed regularity trial approaching, they found themselves without a scooter to enter the event. Norman knowing Arthur well having purchased a new Fiat 500 from him in the previous year decided to pick up the phone and ask Arthur the possibility of loaning a scooter for the event. Arthur immediately offered a TV200 S-Type which had been out on loan with a scooter magazine. The Ronald Brother's went on to win the event with the loss of only eight seconds over the 12 hours, on the basis of this the union and Team S Equipe was born.
Arthur came up with the name as well as the distinctive logo which was incorporated onto a legshield banners, Arthur used his artistic flair to hand paint the banners he didn't realise at the time the French word Equipe translated in English is team. Nevertheless history was made and the two Ronald brother's were joined by Nev Frost in 1968, who was working for Arthur at the time. Each one of the trio was riding and competing on an S-Type; they took the first second and third place with Team S Equipe winning the Premier team award on their first time out as a team. an achievement repeated the following year's Isle of Man scooter week, with Nick Barnes replacing Nev Frost in the team, as well as notching up prestigious victories elsewhere.
Team S Equipe triumph were perfect and unquestionable form of advertising for Arthur Francis S-Type.
By Norman Ronald