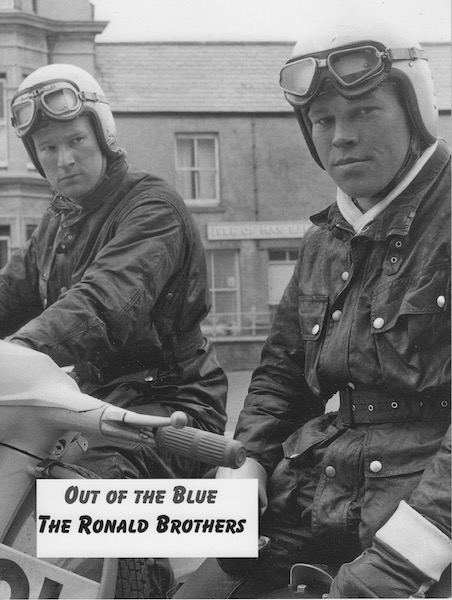 'Out Of The Blue'
The names Norman and John Ronald are familiar to everyone with a keen interest in 1960's scooter racing, as well as the history of the LCGB, during those same years.
Whilst at the AF Rayspeed Open Day in August, I caught up with both Norman and John, who were selling copies of a small print run of their book 'Out of the Blue'. The few copies that they did have were being eagerly snapped up by those that got sight of it.
The A4 size book, contains 34 pages and over 90, of mostly previously unseen, images and photo's from the Ronald brothers own personal collection.
Concentrating on the period between 1964 to 1969, the book takes you through various years of the Isle of Man, LCGB Championship (the fore runner of today's BSM), Snetterton Regularity Trials and builds up to the Italian Motogiro.
A nice inclusion is being able to read press cuttings from various local and national newspapers during those years, including when Norman won a brand new GT200, given by the Daily Mirror, to the 'Champion LCGB Driver of 1966' with John coming a close 2nd and being rewarded with 50 gallons of petrol!! (The book later confirms that John won the LCGB Championship in the following 2 years).
While the book is predominantly photo's, referenced to a particular event/year, also included is Norman's impressive 4 page report on the 6th Motorgiro D'Italia. A quote from Norman in his 2nd paragraph: "The 1967 Motogiro d'Italia proved the most arduous seven days scootering that I have ever experienced".
The LCGB Club Shop has negotiated an exclusive print run of 100 copies of the book, which can be purchased for £25, inclusive of delivery. A great present to received for Christmas. See page 2 of Jetset for details of how to pay.
Toot. LCGB Club Shop